The healthcare industry is the second-most cyber-attacked industry. In 2018, more than 15 million patient health records were breached, and there have already been 33 healthcare data breaches reported for this year. The aftermath of a cyber attack costs a healthcare organization an average of $1.4 million, on top of negative customer experiences and reputation loss. Then there are the effects on the patient who had their privacy compromised and their medical care potentially disrupted.
What makes this industry a large target? To begin with, the entire infrastructure makes it exceptionally vulnerable due to the large amount and sensitive nature of the data collected. Healthcare providers now use EHRs, smart medical devices and other Internet of Medical Things (IoMT). This technology opens up more possibilities for diagnosis and treatment, improves coordinated care, provides invaluable data and gives patients more control, but it also raises a concern for who can access this information. With more points of access, such as smartphone apps where patients can view and update their health information, comes more potential for breaches and a greater security risk. The healthcare industry has so rapidly adopted health information technology (HIT) that security measures are underdeveloped.
A large number of threats are made by outsiders with malicious motives, however the majority of threats are unintentionally made by employees as they access confidential information. It has become crucial for healthcare companies to invest in cybersecurity solutions to evaluate vulnerabilities, educate employees and alleviate patients' concerns.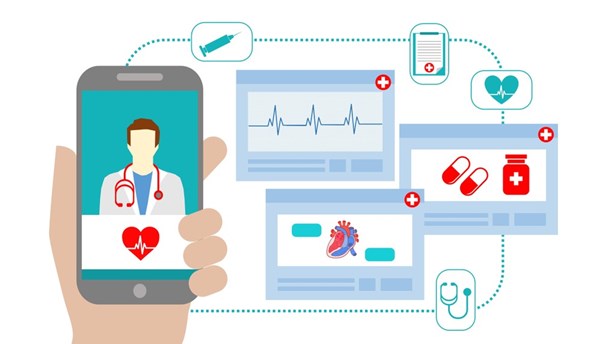 Healthcare Companies Investing in Cybersecurity
As spending on innovations in smart tech, AI and cloud solutions increase, likewise should the investment in security checkpoints to protect data and manage potential threats. In IDC's annual Worldwide Health Industry 2019 Prediction report, it highlighted that 40 percent of healthcare providers will leverage machine learning and AI-algorithm advances to improve their cybersecurity capabilities with automated threat detection to thwart ransomware by 2022.
A handful of healthcare providers and payers have already invested in cybersecurity companies who offer early threat detection, real-time security monitoring, customer identity protection, data storage, disaster recovery, blockchain and security evaluations specifically for mobile apps and medical devices. Partnering with cybersecurity experts allows healthcare organizations who don't have a strong IT team or updated technology to safeguard their data.
Healthcare organizations can meet a baseline by adhering to various security compliances, such as HIPAA and HITRUST, state laws and industry regulations. Additional security-centric strategies that companies can implement to defend against cybersecurity threats include:
Build employee education programs on cybersecurity.
Evaluate all operating systems and networks that private information enters to identify vulnerabilities.
Hire qualified IT staff with cybersecurity and AI knowledge.
Create a ransomware policy.
Foster transparency with patients and clients on the security measures in place.
Monitor all smart medical devices and implement firewalls and anti-virus protections.
Ensure all third-party vendors are compliant.
Educate employees to avoid phishing attacks.
Change passwords regularly.
A new poll by the Healthcare Executive Group (HCEG) reported cybersecurity as one of the top 10 critical challenges, issues and opportunities executives expect to face in 2019.
The Unparalleled MLS Security Standards
MLS Group of Companies, LLC is an independent review organization that offers third-party oversight with evidence-based medical review services. MLS is HITRUST CSF-certified, URAC accredited and adheres to guidelines set forth by HIPAA, but we believe cybersecurity must extend beyond compliance.
MLS's workflow process, policy, procedures and culture revolve around safeguarding confidential information. Our secure web portal is based in a virtual private cloud-based network to preserve the integrity and privacy of patient health information, medical records, and proprietary company information. Our network is maintained with the highest security standards, leading encryption algorithms and best practices management. At MLS, we treat security with the utmost importance and constantly evaluate cybersecurity trends to prepare ourselves for the future of health information technology.